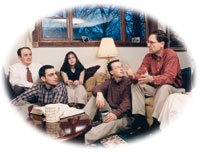 Welcome to the Good News Bible Study Online! You are about to begin an amazing journey through the Word of God!
Each lesson will inspire you to search the Bible and discover a God who truly cares about you!
Every lesson will give you a solid scriptural foundation for the next lesson. Begin your journey by clicking Lesson 1 below. Upon completion of each subject you will receive by e-mail, within 24-48 hours, your corrected lesson in PDF format (Requires Adobe Reader) and a link to the next lesson.
May God abundantly bless you as you begin your amazing journey!